If you've ever wondered "Where can I buy Louis Vuitton Neverfull dupes or alternatives?" or you searched for bags similar to the Louis Vuitton Neverfull, I got you covered! In fact, I used to own a monogram Louis Vuitton Neverfull tote bag myself so I know what I'm talking about. Eventually, I decided to sell my Neverfull on Ebay, but that is a post for another day. Let me know in the comments if you want me to write a separate post discussing the reasons why I don't buy Louis Vuitton anymore. In general, nowadays I'm a bit put-off from buying designer/luxury brands, especially the ones sported by Instagram influencers. I'd love to discuss this topic further with you!
What can you buy instead of the Louis Vuitton Neverfull?
But, let's get back to the hot topic; what can you buy instead of the Louis Vuitton Neverfull? Now, I've done quite an extensive research on good LV dupes and Louis Vuitton alternatives, because I do like the look of the canvas tote bag. What I don't particularly enjoy is the logo flexing. So, the bags I will present you with are Louis Vuitton look alike bags, yet they don't have the flashy LV or Damier logo on them. They are more discrete yet still classy (in my personal opinion anyway).
Price-wise, there are, of course, designer tote bags you can buy as an alternative to the Neverfull from brands that are similar to Louis Vuitton, such as the Goyard Saint-Louis tote. However, in this post, we will explore the affordable Louis Vuitton Neverfull alternatives. I'm more that happy to do a post on luxury LV dupes if the cheaper Louis Vuitton inspired bags are not your style.
Louis Vuitton Neverfull Replicas
Having said that, I do want to make one thing clear. There are a lot of blog posts and especially YouTube videos out there claiming to show you Louis Vuitton Neverfull alternatives, but what they really show are LV replicas from sites like DHgate, Aliexpress, Wish and so on. This post is only for actual dupes, i.e. bags that look like the Louis Vuitton Neverfull but are not the rip-off version of the bag.
Apart from the fact that selling replicas is illegal, the most important bit to me is that there are usually drug cartels behind the super-fakes industry. And let's not forget how embarrassing it can be when someone points out you are wearing a fake. While I won't pretend I'm Mother Theresa and have never browsed DHgate (and considered ordering a bag), I don't support replicas. In fact, I'm guilty of having bought replica scarves and T-shirts before, which in the end I got rid of. Interestingly, there was a research study done on replicas which found that people who buy fakes are more likely to be "fake" in real life, in the sense of lying and being insincere.
Louis Vuitton Neverfull Alternatives
Bottom line is, I have now realised that it's much better to buy a good quality dupe, such as a Coach or a Michael Kors bag similar to the Louis Vuitton Neverfull, instead of buying a replica. Of course, these mid-range brands are not at the same range as the designer luxury brands Louis Vuitton, Dior, Goyard and so on. But they are still respectable brands that sell well made, nice looking and a bit more ethical fashion items.  (I say "a bit" because I don't support leather goods; you can read my views on leather goods here).
Anyway, enough with all the rumbling. Here is what you've all been waiting for! These are the best Louis Vuitton Neverfull alternatives, that can give you the luxe tote bag look without breaking the bank. ☺️
What I like about this bag is that the design is very similar to the Louis Vuitton Neverfull. It even has the drawstrings on the sides, which potentially make the bag more square and allow you to play with its size (much like the Neverfull).
You can never go wrong with a Coach bag. Coach is one of those underrated luxury brands that everyone seems to know yet not a lot of people appreciate. The quality of their bags and products in general is, in my humble opinion, up there with brands like Louis Vuitton and Gucci. However, the prices are reasonable and they can be accessible and affordable, especially during sales season. I particularly like the colour pallet of this bag; the dark brown, black and gold combo is right up my alley. 😍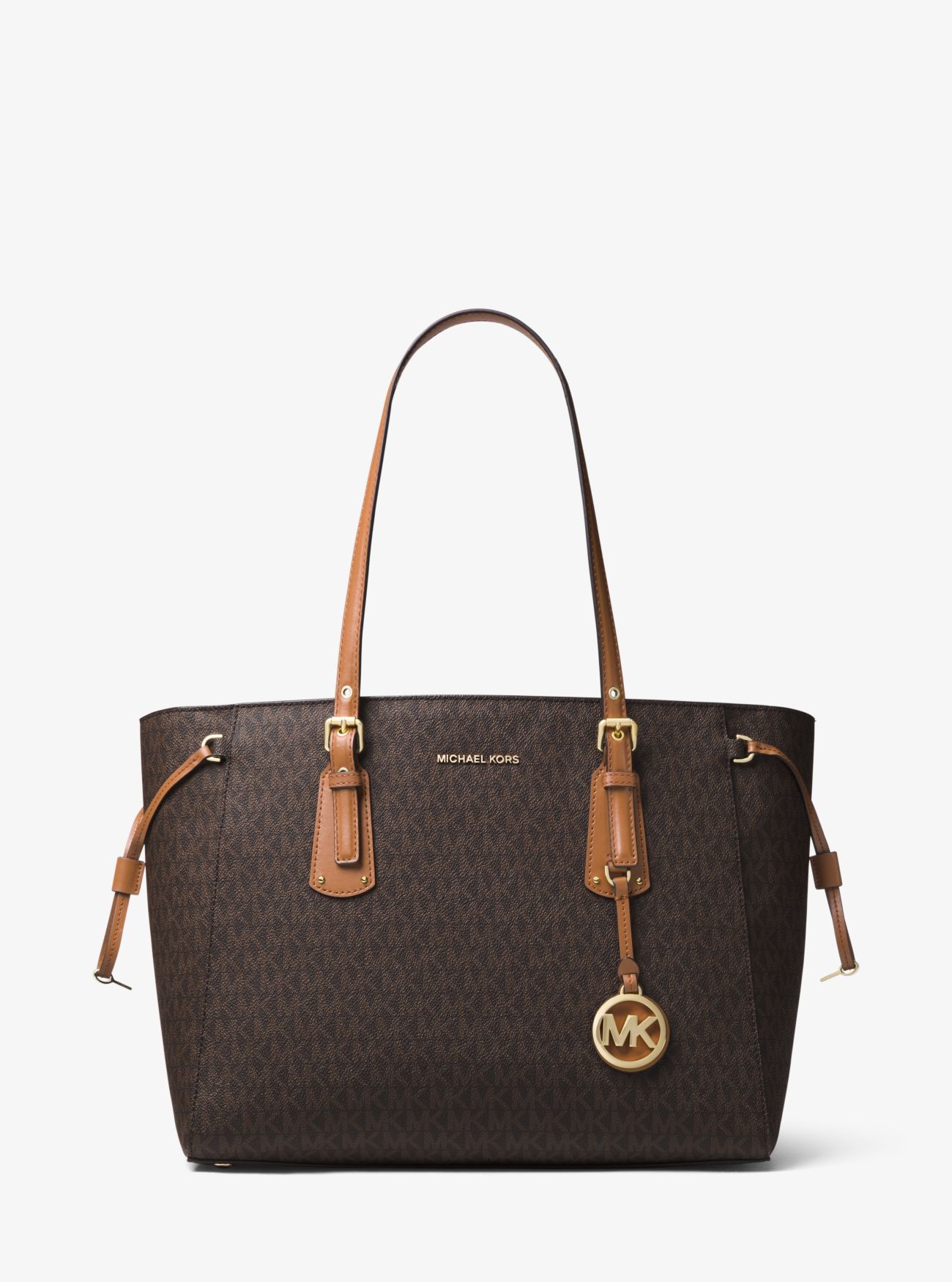 I have a love/hate relationship with Michael Kors. When I was younger, MK was quite big. Then, it sort of faded, a bit like Juicy Couture. If you're a 90s or 80s baby, I'm sure you know what I'm talking about. Also, I find Michael Kors is bigger in the US than it is in Europe. Anyhow, I do like a lot of their designs, and I find they are the closest dupe to Louis Vuitton you can find. They even have illustrated versions of bags and purses, much like Louis Vuitton. To be fair, the same goes for Coach, but as I said above, in my book Coach is more luxurious than MK. Regardless, this MK bag is quite a good quality, reasonably priced and quite similar to the Neverfull.
This Valentino is not the known Valentino, it's the other Valentino. There is a whole saga with the two Valentinos and who came first. It's a bit like the eternal question "which came first: the chicken or the egg?". This bag is by designer Valentino Garavani and sports a canvas pretty similar to the LV Monogram Neverfull. It's also quite affordable.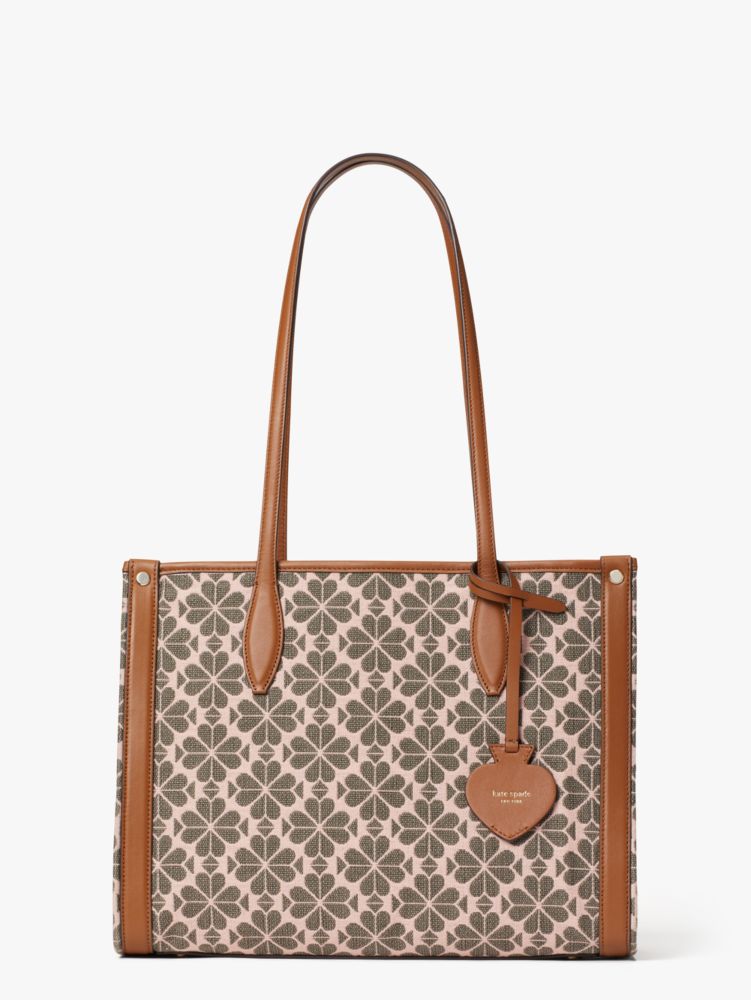 Ah, good old Kate Spade. I love me a Kate Spade bag. The quality of their bags is not the same as it used to be, but I find that's the case with all luxury and mid-range brands nowadays. The prices have increased yet the quality has deteriorated. This bag is not an obvious LV dupe, however it does the job as well as the Neverfull would. It's a beautiful, unique spade pattern and also, has a zip closure for extra security. From this whole list, this bag is my favourite and I actually plan on buying it.
I actually didn't know Joop! sell bags and leather goods. I only knew Joop! for their perfumes. Nonetheless, this bag is an obvious Louis Vuitton Damier Azur Neverfull dupe. If you want the Damier Neverfull look but can't afford the price, this one's for you!
Lauren Ralph Lauren is the more affordable line of Ralph Lauren and I quite like the design of their products. This is a very beautiful and well made tote bag.
DKNY is not as big as it used to be, but they still make affordable and nice looking products. This canvas tote bag will easily replace the LV Neverfull and give you a similar luxe look.
£165.75

In all honesty, I was not aware of this brand until I started writing this post. Apparently, it's a mid-range luxury brand such as Kate Spade and, not gonna lie, I'm kind of loving their designs. What I love about this particular tote bag is the colours.
This and the next bag on the list are the two most affordable (aka cheaper) dupes of the Louis Vuitton Neverfull. They have drawstrings on the side and the whole vibe screams LV Neverfull dupe. It's a good start if you can't commit to LV yet.
So, I found this bag and brand through Google and I'm still not 100% sure it's not a replica. It looks remarkably similar to the Neverfull and sadly, this is how listings look at DHgate. This one is the closest dupe to the LV Neverfull, but if you do decide to buy it I would advise you use Paypal for extra protection in case it's a scam.
What do you think of these bags? Do you already own some of them perhaps? Would you like to own one of them? Or do you feel none of them give you the iconic Louis Vuitton Neverfull vibe? Let me know your thoughts! Don't forget to tell me if you would like to me to do a post on why I don't buy designer brands anymore and on luxury LV dupes! 💋
M. x
Pin this 📌